HY16F39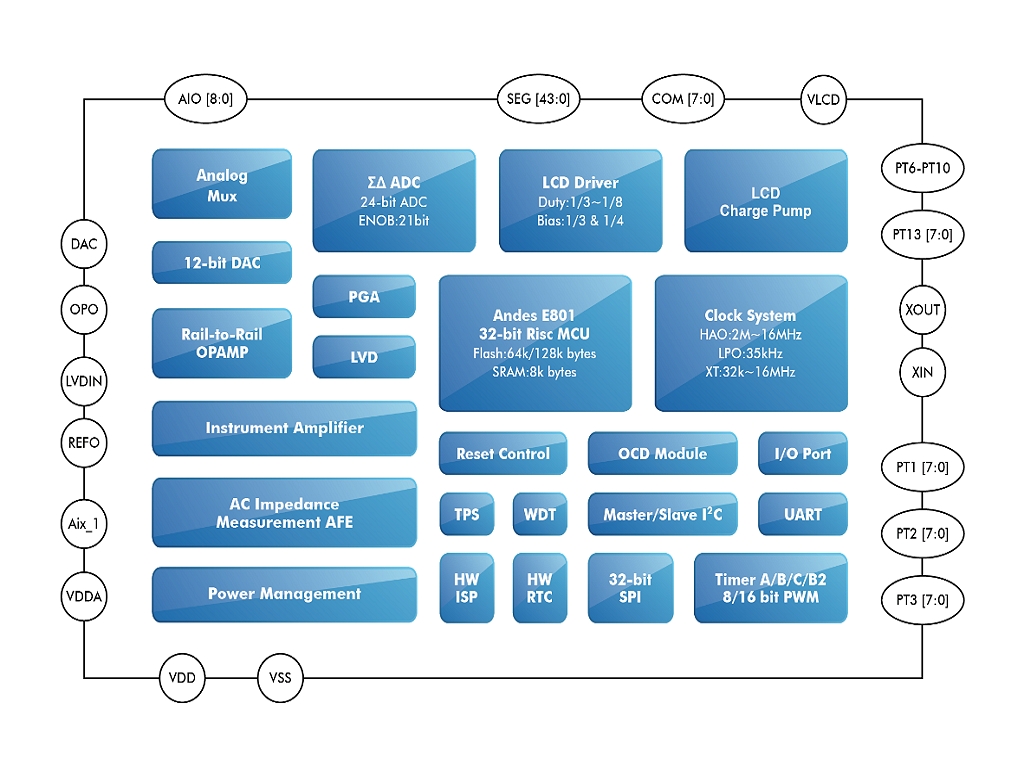 Health care electronic devices
Precision sensing system
Industrial Controller & Strain gauge
Infrared thermometer application
High-precision ΣΔ ADC measurement application
Electrochemical and Biological impedance measurement
Digital Features:
Built-in Andes E801 32-bit Risc MCU

One instruction per clock cycle(1T Ins. Cycle)
Power On/ Brown Out 1/ Brown Out 2
WDT Reset
C complier & graphical development tool chain

Operating Voltage and Temperature Range

Digital Circuit: 2.2V~3.6V(HY16F3981) & 2.0V~5.5V(HY16F391x)
Analog Circuit: 2.4V ~ 3.2V
Operating Temperature: – 40°C ~ 85°C

Low Power Consumption

Standby Mode: Typ. 4.5uA~5uA@LSRC=32KHz
Sleep Mode: Typ. 1.8uA~2.5uA

Memory

64K/128K bytes Flash ROM
8k bytes SRAM

Timer

Watch Dog Timer
3 channels 16-bit Timer
Support 2 channels 16-Bit PWM & 4 channels 8-bit PWM
Compare and capture function

Communication Interface

Support 2 channels EUART and I2C(Master/Slave) communication interface
Support 4-wire 32-bit SPI communication interface
Support 2-wire OCD, ICP and ISP function

Up to 72 GPIO pins (partially shared from LCD pins) are supported
Built-in Hardware RTC(Real Time Clock) function
Analog Features:
24-bit ΣΔADC(Analog to Digital Converter)

Max.Sampling Frequency up to 1MHz
Second/third order comb filter with conversion frequency of 15~31k sps
ADC Gain: x1, x2, x4, x8, x16, x32 ,x64, x128
ADC signal amplification can reach 256 times (using HY16F3981 instrument amplifier only)
Input referred noise down to 65nVrms@Gain=128
Differential input signal and zero adjustment of measurement range
High input impedance (built-in input buffer)
Low temperature drift coefficient and built-in absolute temperature sensor

Operating Frequency

External Crystal oscillator: 32768Hz ~ 16MHz
Built-in ±2% high precision HAO oscillator (after trim)
Built-in low power LPO oscillator

Low Power and Low Temperature Drift Coefficient Power System

Built-in programmable VDDA linear regulated supply voltage
Built-in 1.2V reference voltage output

R-Type LCD Driver

Support up to 44 segments driving pin
Support 1/3~1/8Duty and 1/3~1/4Bias
Built-in charge pump voltage can provide a variety of LCD bias voltages
LCD pin can be set as input / output pin

Rail to Rail operation amplifier

1MHz bandwidth, higher than 90dB gain
Programmable configuration: unit gain buffer, integrator…etc
Supported channel: HY16F3981 x 1 channel, HY16F3913 x 3 channels.

12-bit DAC

Programable Resistance Ladder
With OPAMP, it can be designed as 12 bit DAC
Supported channel: HY16F3981 x 1 channel, HY16F3913 x 2 channels

Multi-function comparator

Support external voltage input comparison
Up to 15-level Low Voltage Detection

AC impedance measurementAnalog Front-End hardware (HY16F3913 only)

Built-in 24-bit ΣΔADC, two sets of 12-bit DAC, three sets of Rail-to-rail OPAMP and other hardware
Electrochemical Analysis
Bioelectrical Impedance Analysis Module, the functions are as follows:

AC waveform frequency: 122Hz~250KHz
Impendence Range: 1K ~ 1MΩ
Phase detector: 0~90°
Model No.
VDD
(V)
Internal
Clock
(Hz)
System
Clock
(Hz)
Flash
Memory
(byte)
Data
Memory
(byte)
ADC
ENOB
(bit x ch.)
Sample
Rate
(sps)
TPS
OPAMP
(type x ch)
DAC
(bit x ch.)
RTC
LCD
(com x seg)
I/O
Timer
PWM
(bit x ch.)
Serial
Interface
ISP
Mode
Special
Function
Package
8-bit
16-bit
HY16F3981
2.2~3.6
35K
1.843M
4.147M
9.216M
15.667M
32K~16M
64K
8K
21-bit x 7
31~15k
Y
R2Rx1
12bit x 1
Y
–
15
–
3
8-bit x4,
16-bit x2
EUART x 2
I2C
32bits SPI
Y
IA

*

SSOP28
4×32 or 6×30
14+36

**

LQFP64
HY16F3910
2.0~5.5
32K
4.147M
31.795M
32K~32M
128K
8K
20-bit x 9
31~15k
Y
–
–
Y
4×26 or 6×24 or 8×22
24+30

**

–
3
8-bit x4,
16-bit x2
EUART x 2
I2C
32bits SPI
Y
–
LQFP64
4×40 or 6×38 or 8×36
24+44

**

LQFP80
4×44 or 6×42 or 8×40
24+48

**

QFN88
HY16F3913
2.0~5.5
32K
4.147M
31.795M
32K~32M
128K
8K
20-bit x 9
31~15k
Y
R2Rx3
12bit x 2
Y
4×44 or 6×42 or 8×40
22+48

**

–
3
8-bit x4,
16-bit x2
EUART x 2
I2C
32bits SPI
Y
AC

***


Impedance
LQFP100
4×34 or 6×32 or 8×30
24+38

**

QFN88
Note:
ADC:24-bit Sigma Delta ADC.
OPAMP:R2R means Rail to Rail OPAMP, LNA means Low Noise OPAMP.
TPS:Internal Temperature Sensor.
RTC:Support hardware Real Time Clock(RTC) function, which can achieve the functions of year, month, day, hour, minute, second and alarm.
DAC:Digital to Analog Converter.
ISP:Support hardware In System Programming(ISP), which can be completed through UART communication interface.
Timer:Timer A(8-bit) support multi-segment interrupt time setting; Timer B (16-bit) with PWM function, PWM output can choose 8-bit or 16-bit design; Timer C (16-bit) with Compare and Capture function.
IA*:Built-In Instrumentation Amplifier(IA).
**:LCD pin shared I/O.
AC***:Built-in Analog Front-End(AFE), which can achieve the functions of AC impedance measurement and electrochemical analysis.
Product Application Notes
Model No
Descriptions
User Manual

Application

Source Code

Product

Videos

UG-HY16F3981
HY16F3981 Series Chip User's Guide
Download
UG-HY16F3910
HY16F3910 Series Chip User's Guide
Download
UG-HY16F3913
HY16F3913 Series Chip User's Guide
Download
APD-HY16IDE023
HY16F3981 Series Chip Hardware IP User's Guide
Download
Download
APD-HY16F39IDE002
HY16F3910 Series Chip Hardware IP User's Guide
Download
Download
APD-HY16F39IDE009
HY16F3913 Series Chip Hardware IP User's Guide
Download
Download
APD-HY16IDE010
HY16F Series IDE Software Optimum Instruction Manual
Download
APD-HY16F025
HY16F3981 Infrared thermometer application Manual
Download
Download
APD-HY16F39001
HY16F3913 HCT Blood Glucose Meter application manual
Download
Download
APN-HY16F001
HY16F Series Products Development Precautions
Download
Download
OJTI-HM-2013-002
QFN/DFN PCB Pad Design and Soldering Production Process Precautions
Download
Tools & Software & Document Download Page
Model No.
Descriptions
Software
Software User Manual
Hardware User Manual
Training Videos
HY16F3981-DK01
HY16F3981 Series In-Circuit Emulator
Download
HY16F3910-DK01
HY16F3910 Series In-Circuit Emulator
Download
HY16F3913-DK01
HY16F3913 Series In-Circuit Emulator(dedicated to AC Impedance Measurement Applications)
Download
HY16F3913-DK02
HY16F3913 Series In-Circuit Emulator
Download
HY16F3910-DS01
HY16F3910 HyTiny Getting Started Evaluation Kit
Download
Download
Download
HY16F3913-DS01
HY16F3913 HyTiny Getting Started Evaluation Kit
Download
Download
Download
HY16F Series IDE
HY16F18x/19x/3981 Series Integrated Development Environment Software
Download
Download
HY16F Series Device
HY16F18x/19x/3981 Series Device Device driver installation package
(need to install HY16F18x/19x/3981 Series IDE software first)
Download
Download
HYCON 32-bit MCU IDE
HYCON 32-bit MCU Integrated Development Environment Software
Download
Download
HYCON 32-bit MCU Device
HYCON 32-bit MCU Device driver installation package
(need to install HYCON 32-bit MCU IDE software first)
Download
Download
HY16F3981 Series C Library
HY16F3981 Series Peripheral Driver C Library
Download
Download
HY16F3910 Series C Library
HY16F3910 Series Peripheral Driver C Library
Download
Download
HY16F3913 Series C Library
HY16F3913 Series Peripheral Driver C Library
Download
Download
HY16F Bootloader
HY16F Series ISP Bootloader Software
Download
Download
HY16F Writer
HY16F Series Writer Software
Download
Download
HY10000-WK08D
Integrated Writer, Support HY10P/HY11P/HY12P/HY13P/HY15P/HY17P/HY16F18x/19x/3981 Series Products
Download
HY10000-WK09
Integrated Writer, Support HY17P, HY17M & HY16F Series Products
Download