HY312x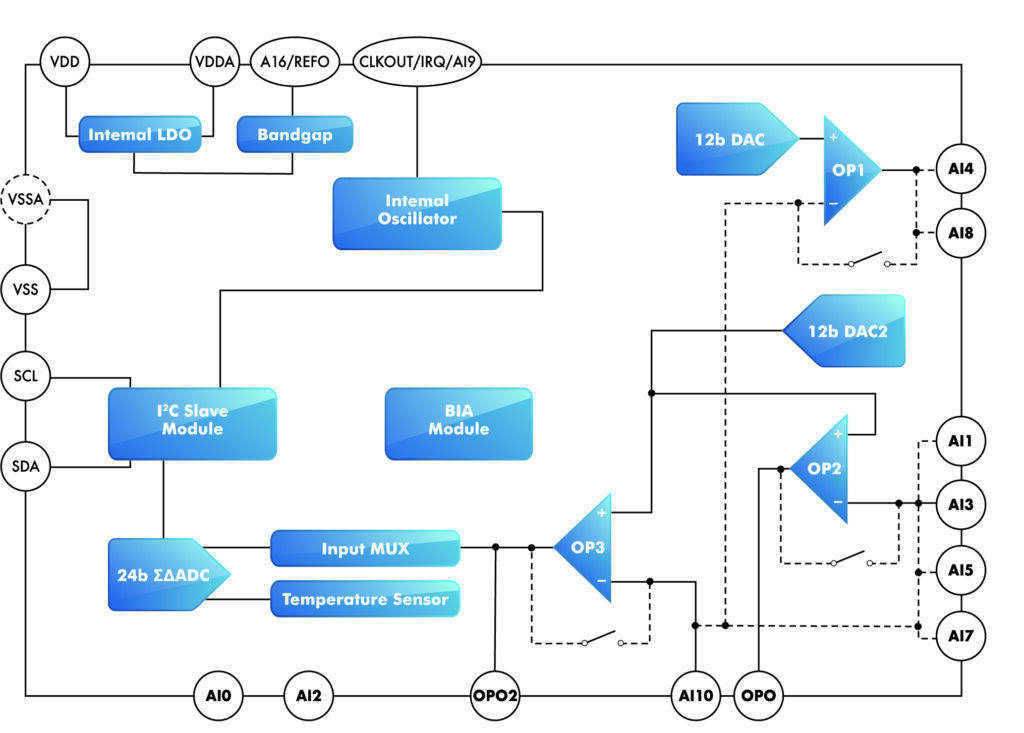 Electrochemical analysis
Bioelectrical impedance analysis
Industrial Controller & Strain gauge
High-precision ΣΔADC measurement application
AC Impedance converter

Built-in HAO(High Accuracy RC Oscillator),The selectable Frequency is : 2MHz, 4MHz, 8MHz;and also provide frequency output function.
VDDA driving ability up to 10mA.
Three Rail-to-rail OPAMP.
Sinewave signal output with adjustable frequency and amplitude.
AC Impedance measurement circuit
1Mhz, 24-bitΣΔADC analog to digital converter.
I2C digital interface.

Operation environment

Digital voltage: 2.2V to 5.5V.
Analog voltage: 2.4V to 4.5V.
Operation temperature range: –40°C to +85°C.

24-bits ΣΔADC

Optional gains of: ×1/4, ×1/2, ×1~×16
Optional different data conversion output rate with upper limit of 31.25Ksps
Embedded DC bias voltage design
IRQ function

Rail-to-Rail OPAMP

Internal three Rail-to-rail OPAMP
1mA source and sink current

Internal linear regulator VDDA and reference voltage REFO

VDDA output voltage: 2.4V~4.5V
REFO output voltage:1.2V

I2C slave interface

Support standard communication format
Support FSCL = 400KHz
Sleep function (controlled by the register)

IRQ PIN support
12-bit Resistor Ladder DAC

Programable Resistor Ladder and Monotonicity output
With OPAMP, it can be designed as dual channels 12 bit DAC

Bioelectrical Impedance Analysis Module (BIA Module)

Electrochemical analysis
Bioelectrical impedance analysis
AC waveform frequency: 122Hz~250KHz
Impendence Range: 1K ~ 1MΩ
Phase detector: 0~90°
Model No.
VDD
(V)
Internal
Clock
(Hz)
System
Clock
(Hz)
ADC ENOB
(bit x ch.)
Sample Rate
(sps)
TPS
OPAMP
(type x ch.)
DAC
(bit x ch.)
BIA Module
IRQ
Function
Serial
Interface
Package
HY3123
2.2 ~ 5.5
2M
4M
8M
2M ~ 8M
19-bit x11
8 ~ 31.25k
Y
R2R x3
12-bit x2
Y
Y
I2C
SSOP16

SSOP20
Remark:
ADC:24-bit Sigma Delta ADC。
TPS: Internal Temperature Sensor.
OPAMP: R2R means Rail to Rail Amplifier.
DAC: Digital to Analog Converter.
BIA Module: It can generate AC waveform and measure the impedance and angle of the object to be measured.
IRQ Function: When the ADC is interrupted, the IRQ interrupt signal can be output through the CLKOUT pin or the SDA pin.
Product Application Notes
Tools & Software & Document Download Page
| Model No. | Descriptions | Software | Software User Manual | Hardware User Manual | Training Videos |
| --- | --- | --- | --- | --- | --- |
| HY3123-AK01 | HY3123 Series Chip Performance Testing and Evaluation Tools(dedicated to AC Impedance Measurement Applications) | Download | Download | Download | |
| HY3123-AK02 | HY3123 Series Chip Performance Testing and Evaluation Tools | Download | Download | Download | |