HY2540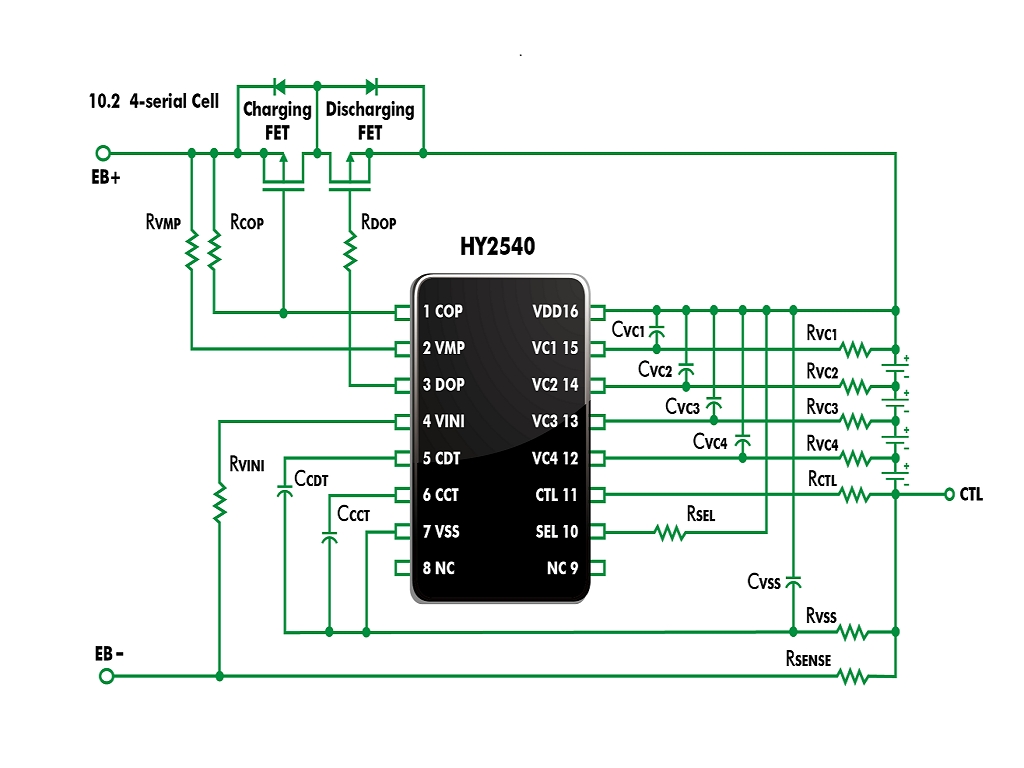 High-accuracy voltage detection circuit for 3/4 Cell Application.
Charge overcurrent protection.
Three-level discharge overcurrent protection.
Delay time:

Delay times are set by external capacitors respectively at CCT pin and CDT pin for overcharge detection, /charge overcurrent detection and overdischarge detection/discharge overcurrent detection voltage 1.
Delay times are set internally for discharge overcurrent detection voltage 2 (1ms) and discharge overcurrent detection 3 (300μs).

Cell number selection: SEL pin is used to select either 3 battery cells in use or 4 battery cells in use.
Charge/discharge operation can be controlled via the CTL pin.
0V Battery Charge inhibition.
High voltage withstand range: Absolute maximum rated level:28V
Wide operating temperature range:-40℃ to +85℃
Low current consumption:

Operation mode 12μA typ., 30μA max. (VCn = 3.5V)
Power-down mode 1.2μA typ., 2.0μA max. (VCn = 2.0V)

Small package: 16-pin TSSOP
Halogen free green product.
Package Type TSSOP16L   DataSheet
Product Name
Overcharge Detection Voltage
VCU
Overcharge Release Voltage
VCR
Overdischarge Detection Voltage
VDL
Overdischarge Release Voltage
VDR
Overcurrent Detection Voltage1
【VIOV1】
Overcurrent Detection Voltage2
【VIOV2】
Charge Overcurrent Detection Voltage
VCIP
0V Battery Charge Function
V0CH
HY2540AA-T016-AC
4.350 V
4.150 V
2.400 V
3.000 V
0.200 V
0.500 V
-0.100 V
Available
HY2540AB-T016-AC
4.250 V
4.150 V
2.700 V
3.000 V
0.200 V
0.500 V
-0.100 V
Available
HY2540AC-T016-AC
3.900 V
3.800 V
2.000 V
2.500 V
0.150 V
0.500 V
-0.100 V
Available
HY2540AD-T016-AC
4.250 V
4.150 V
2.500 V
3.000 V
0.100 V
0.500 V
-0.100 V
Available
HY2540AE-T016-AC
4.225 V
4.075 V
2.400 V
3.000 V
0.200 V
0.500 V
-0.100 V
Available
HY2540AF-T016-AC
4.425 V
4.225 V
2.500 V
2.900 V
0.150 V
0.500 V
-0.100 V
Available